The 11th annual Pramerica Spirit of Community Awards, hosted by Pramerica Life Insurance Limited, felicitated 12 school students for their extraordinary efforts in the area of community service at a virtual awards ceremony held last evening. These finalists were selected from over 1,500 applications received in a nationwide search for India's top youth volunteers.
– Anjali Surana, from Calcutta International School, Kolkata and Jayant Hooda, from Sir Chhotu Ram Modern Sr. Secondary School, Haryana selected as the National Winners
THE PRAMERICA – "SPIRIT OF COMMUNITY" AWARDS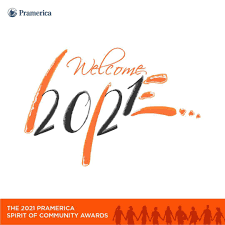 The programme is the India chapter of the Prudential Spirit of Community Awards, the largest youth recognition programme in the United States based exclusively on volunteer service. Other participating countries include Prudential Financial Inc. subsidiaries in Japan, South Korea, Taiwan, Ireland, China, Brazil and Poland.
Students from nearly 125 schools across the country applied for these awards, not just from metros and large cities but from smaller cities, towns and villages such as Jagraon, Mehsana, Kalachery, Fazilka, Samastipur, Bettiah, Sangrur, Jhajjar and Kalimpong to name a few.
The top honours went to Anjali Surana a Class 12th student of Calcutta International School, Kolkata, for her innovative project 'Fullstopp' dedicated towards promoting women empowerment and menstrual equity and Jayant Hooda, a Class 12th student of Sir Chhotu Ram Modern Sr. Secondary School, Haryana, for his initiative 'The sensible voice organisation', sensitizing the youth for a better future. Both the winners were awarded Gold medallions, Certificates of Excellence, a cash prize of Rs. 3,50,000 each, and trophies for their schools.
10 other well deserving finalists were felicitated with Certificates of Achievement and Silver medallions. They included students from Delhi NCR, Mumbai, Deogarh (Jharkhand), Surat (Gujarat) and Morena (Madhya Pradesh).
Speaking on the occasion, Ms. Kalpana Sampat, MD & CEO (Awaiting regulatory approval from IRDAI), Pramerica Life Insurance Limited said, "The Spirit of Community Awards are a testament of hope when it comes to community work and a strong example of an inclusive society. I am genuinely impressed by the resilience and leadership shown by our finalists who refused to let the pandemic break their spirit to make a difference. We are proud of their contributions and will continue to support and acknowledge their unshakable spirit of community service." 
The national winners were selected by an eminent jury panel comprising Ms. Bindi Dharia, Deputy Director, Centre for Social Impact and Philanthropy, Ashoka University, Ms. Farida Lambay, Founder Trustee, Pratham Education Foundation, Ms. Kritika Rawat, Coach, Kids Education Revolution at Teach for India, Ms. Richa Anirudh, Speaker, Mentor, Author and Host of 'Zindagi with Richa', and Mr. Venkat Krishnan, Principal Trustee at India Welfare Trust.
News Disclaimer: This story is provided by PRNewswire. The EdTalk will not be responsible in any way for the content of this article.
Source: PRNewswire
SUBSCRIBE NOW
Join 10000+ Members
[newsletter_form type="minimal" lists="undefined" button_color="#343333″]